If you give a mom five busy kids and a packed schedule, she will learn to rely on her car.
If she has an especially busy week coming up, the car's steering will start acting suspicious.
She will not tell anyone, and pray fervently that it miraculously resolves itself.  And it will… for a week.
She will cleverly devise a plan to switch cars with her brother-in-law so he can take the car to his "people."
The car will prove too mysterious to be figured out in one day.
She will take the car to a local mechanic.
The car will prove too mysterious to be figured out for less than $1000.
She will appeal to higher powers and her loving mom&dad will loan her their car.
She will delight in the sunroof and forget to close it, showering the inside of the pristine car with locust blossoms.
She will tell her children phrases like:  "We don't eat in Grandma's car."
and:  "We don't put our feet on Grandma's car seats."
and:  "No, you can't stick your head out of Grandma's sunroof."
She will present the repair quote to her husband who will call his friend who "knows a guy."
She and her husband will move the car from one mechanic to the other, and on the way home her husband's car will stop working at a gas station.
They will walk home.
On the busiest day of the mom's week, they will drive the grandma's car to the preschool picnic.
The husband will then go to the first grade "Author's Tea" at the local elementary school.
When the husband picks her up, he will be driving her car instead of Grandma's.
She will learn that Grandma's car got a flat tire on the way back to the picnic, close to the second mechanic where his friend "knows a guy."
They will arrange a new tire with "the guy."
Her husband will unsuccessfully attempt to jump his car's now-dead battery with her car while she plays "bubble gum, bubble gum in a dish" in the backseat of her car with her doughnut-sugar-high children.
Her husband's car will be towed to "the guy."
Her car proves less mysterious to "the guy" who can fix it for half the price, yet the part is backordered and won't be available for 2.5 weeks.
Her car is able to be driven in the meantime, but will be considered an upper arm workout every time she touches the steering wheel.
The mom will cry a little.
But then she will watch her boys playing in the sunny rain.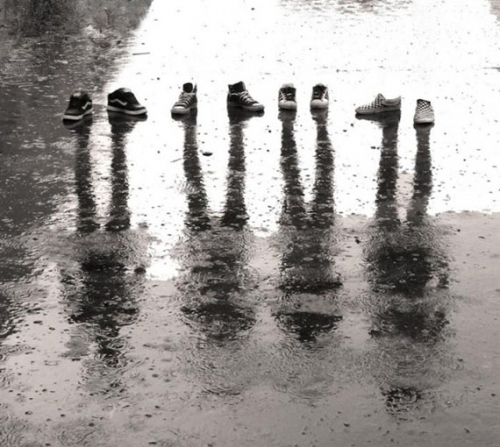 And she will know that somewhere, someone is seeing a rainbow.
And somewhere deep inside she knows that this, too, shall pass.
And she feels thankful for her family and friends…
And her very busy schedule.
(And the promise of a margarita.)